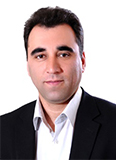 Assoc. Prof. GHAMGEEN IZAT RASHED
School of Electrical Engineering and Automation, Wuhan University, China
Title:Is the Smart Grid Really a Smart Idea?
Abstract: It is hard to quarrel with the idea that it is good to be smart. That presumably is why the proponents of some radical changes in the design of the electrical system came up with the name "smart grid." The smart grid has the potential to bring a more stable, economical, and environmentally friendly electrical system. Unfortunately, it is far from the unalloyed plus portrayed to the public, where smaller customers may pay too high a price. A more modest plan, guided by government policy, would be better. The potential savings will justify the cost only if the smart grid brings sweeping changes in the way consumers use and pay for electricity. But these changes have the potential to saddle them with unnecessarily high prices, force them to bear unnecessary risks, and make their local utility company an uninvited participant in the intimate details of their everyday lives. These potential changes deserve a thorough airing before committing to such large investments in the name of smartness.
So, it is essential to study smart grid goals and benefits in studies like introducing smart technologies and devices especially in the distribution system and assuredly with adhesive planning to comprise all of these technologies with a suitable budget and come to the customer with convenient price. Regarding Distribution Networks (DNs) energy utilization efficiency, an adequate reconfiguration strategy for DNs equipped with distributed generation units and soft open points devices is investigated. Also, the potentials of the hybridization of renewable energy systems for electrical load supply DNs, especially for a real case study. Besides, implementing Advanced Distributed Automation System in DNs with two steps of planning and reliability assessment.
Research Experience:
Ghamgeen I. Rashed was born in Sulaimani-Iraq, on Sept. 16, 1974. He received his B.Sc. in Electrical Engineering in Salahaadin University-Iraq at 1995, his M.Sc. in Sulaimani University-Iraq in 2003, and his Ph.D. degree in power system and its automation, from Huazhong University of Science and Technology (HUST), China in 2008. Now he is assistant professor at Wuhan university, school of electrical engineering, and Automation, Wuhan University, china. His special research of interest in AI and its application to the power system, FACTS devices specially TCSC and its control.
Rashed already published more than 40 SCI and EI papers, he already take part in more than 25 international conference and invited as keynote speakers and paper presenters.